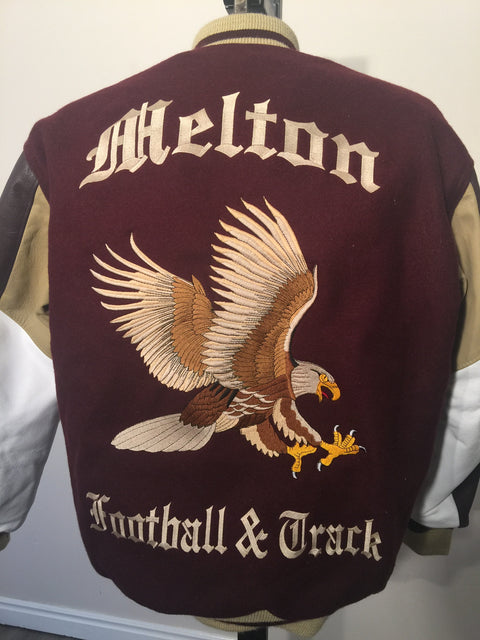 How to Style Your Letterman Jacket
A custom letterman jacket is a great piece to complete a vintage look, but what about the rest of the outfit? We've got you covered. These are our tips for how to style your letterman jacket with a variety of looks!
The Plain White T-Shirt
If you're trying to put together a classic 80's outfit there's no better way to compliment your Letterman than a white t-shirt and blue jeans. This is a simple outfit, but sometimes simplicity is best. This is a good way to look fashionable without trying too hard.
Pullover Hoody
Some Letterman's come with hoodies, but if yours doesn't you can add your own. Try slipping on a hoodie (preferably a pullover) underneath your Letterman. Layering is a great way to stay warm in the cold months and add a little variety to your style.
The Button Up
If you're trying to put together a rugged look you can wear your Letterman over a button up shirt. It looks great over a denim, chambray, or flannel shirt, and exudes masculine fashion.
The Semi Formal
Finally, if you're more of a shirt and tie kind of guy adding a Letterman to your outfit will set you apart and keep you looking professional.
General Tips
Now that you've got a few ideas about what to wear with your jacket we've got a couple of general fashion tips for you.
Contrast
Creating contrast makes your outfit look more interesting. A good way to contrast is to wear light and dark colors together.
Color
It can be hard to know what colors go together. Although there are lots of things to consider colors like: navy blue, maroon, olive green, brown, black, and white will go with most outfits.
We hope these tips are helpful and offer a good starting point for your wardrobe. Try putting a few together and see what suits your style. You're going to look good no matter what with a varsity jacket on, but these tips can bring your fashion game to the next level!